Global crisis aside, foreign carmakers flock to Russia
No 'Rust Belt' in sight at Russia's 'Little Detroit.'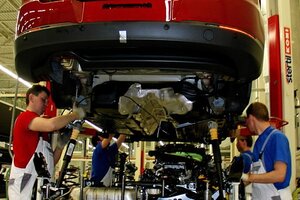 Fred Weir
People are starting to call this central Russian industrial town "Little Detroit." Unlike its American namesake, the car factories here are not only still working, but they're going forward with ambitious expansion plans.
Russia already has a home-grown auto industry, but the new factories are distancing themselves from the clunky Soviet days – meaning experienced Russian auto workers need not apply. Wages are even less than those at auto plants in Eastern Europe, but the sour economy is resulting in an abundance of eager labor.
Amid Russia's skyrocketing interest rates, plunging ruble, and rising unemployment, Kaluga is proving to be a rare bright spot.
A two-year old Volkswagen plant just outside Kaluga, which assembles Passat and Jetta sedans for Russia's fledgling middle class, has slashed weekly shifts in half, though it has not yet laid-off any workers.
Foreign production up
Volkswagen claims that it has sold more cars in Russia this January than in the same month last year. A sprawling Volvo truck plant opened production near Kaluga in January. Peugeot Citroën and Mitsubishi will break ground later this month for a joint production facility that could be churning out 300,000 vehicles by 2012. Local officials say that the Canadian car-parts maker, Magna, will finalize a deal this week to build a factory near Kaluga's burgeoning "auto industry cluster."
---
Follow Stories Like This
Get the Monitor stories you care about delivered to your inbox.