Unions' dilemma on layoffs: to compromise or not?
The desire to save jobs has led to concessions – but there is a limit.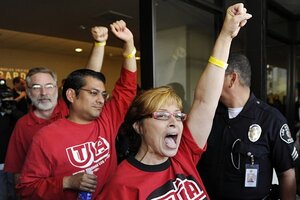 Chris Pizzello/AP
In Lynn, Mass., teachers saved more than 100 jobs by agreeing to work one unpaid day this year.
But in nearby Boston, the teachers union has so far rejected a proposal that all unionized city workers accept a wage freeze for next year or face large layoffs.
The faltering economy has put unions at a crossroads nationwide: How much should they compromise with cash-strapped cities, counties, and states trimming their wage bill?
So far, unions have frequently shown a willingness to make concessions – realizing that their members are not immune from the crisis. But in many cases, they are balking at the stark terms being proposed. It points to a growing showdown between unions and employers, as each contests the other's appraisal of the situation and the remedies that will be sufficient.
"We don't have our heads in the sand. We know what's going on," says Gordon Pavy, director of collective bargaining for the AFL-CIO. "We benefit on the upside, and on the downside, we have to take our lumps like everyone else."
Terms are negotiable
He says it is not unusual for unions to work with employers to find solutions that save jobs in times of recession, even if it means making major concessions on wages or taking unpaid furlough days. Still, city and state leaders seem to be taking their demand for concessions to the courts or to the media rather than negotiating in good faith, Mr. Pavy says.
For example:
---