US urges a global economic fix
Ahead of the G-20 finance ministers' meeting, Obama calls for allies to increase stimulus efforts – and meets a cool response.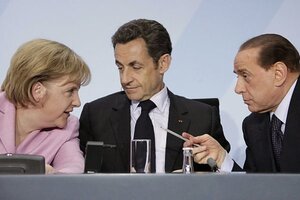 Hannibal Hanschke/Reuters/File
Attempts by individual nations to fix their own economies are important. But the great recession now rippling around the world is an international problem, and the best way to fight it may be a more aggressive international response.
That's the message President Obama and Secretary of the Treasury Timothy Geithner are sending in advance of this weekend's meeting in London of finance ministers from 20 advanced and developing nations.
This doesn't mean the US government wants to establish a multinational treasury that will run the globe from an island lair. But it does mean that Washington thinks key European and Asian nations need to spend more on economic stimulus – and that over the next few months the US hopes to establish some general principles for greater cooperation on everything from International Monetary Fund resources to regulation of banks.
"We need to make sure we're working together ... we need to begin to establish a framework," said Federal Reserve Chairman Ben Bernanke in a March 10 appearance at the Council on Foreign Relations.
Leaders meet April 2
World leaders, including Mr. Obama, will meet in London on April 2 for a global financial summit. The finance minister meetings this weekend are intended to serve as a general planning session for the April 2 gathering.
On March 11, Secretary Geithner outlined an ambitious international agenda, including a 10-fold increase, to as much as $500 billion, in the size of the reserves that the International Monetary Fund can draw upon to help countries in economic trouble.
---