Recessions expose financial scandals
Bernard Madoff's Ponzi scheme isn't the only scam uncovered during tough economic times.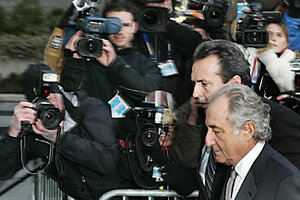 Shannon Stapleton/reuters
Low tide in the economy sometimes reveals financial scandals that otherwise might not have been easily detected.
That's the case once again as Bernard Madoff, the perpetrator of the largest financial fraud in history, pleaded guilty on Thursday to a Ponzi scheme that sucked in billions of dollars.
Some of the scandals, now and in the past, are discovered as a result of closer scrutiny as regulators roll up their sleeves to look for copycat crimes. Sometimes, companies mysteriously close their doors, causing investors and investigators to dig deeper. And, sometimes, the scams themselves come undone by the economic pressures around them.
"When the economy suffers, people reach out for their money, or what they think is there, because they need it to live or they psychologically want to know it's there," says Jim Cohen, a criminal law professor at Fordham University Law School in New York.
In this particularly recession, the scandals just keep on coming.
Investigators are trying to figure out what's happened to billions of dollars from Stanford International Bank in Antigua. Earlier this month, the Securities and Exchange Commission charged Sunwest, an operator of Assisted Living facilities, with a $300 million securities fraud. And on Wednesday, the SEC alleged a California company, Equity Investment Management and Trading was running a $40 million Ponzi scheme – where money from future investors is used to pay off money owed to past investors.
---