YouthBuild: one stimulus model
The program has turned lives around and builds affordable community housing.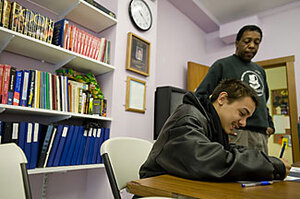 Ann Hermes/The Christian Science Monitor
Daniel Brito finished high school, but he didn't know what to do next. His family, in a low-income Boston neighborhood, just wasn't there for him. He was scared he'd be a failure.
Then a former teacher connected him with YouthBuild Boston, a local affiliate of a nationwide program that enables low-income young people to stay with their education and learn job skills while building affordable housing for their communities.
Today, Mr. Brito is a graduate of the program and a union carpenter. "I learned everything there – how to show up on time, how to work with others, to never give up," he says. "Now [I] ... wake up every morning wanting to go to work. I love what I do!"
YouthBuild has opened doors to employment for more than 84,000 youths most often left behind. It's also completed 18,000 affordable housing units in 44 states.
Next week, to celebrate the program's 30th anniversary, participants from across the United States will construct one of their energy-efficient "green" houses on the National Mall in Washington.
Because of YouthBuild's success, the recent stimulus bill included $50 million to expand the program beyond resources already available to it in the Labor Department budget.
The program is directed toward people ages 16 to 24 and aims especially to help high school dropouts and youth offenders.
In a 2008 study of its work with offenders, researchers from Vanderbilt University found that every dollar spent on a YouthBuild participant yielded between $10.80 and $42.90 in benefits to taxpayers. Participants completed their GEDs or high school diplomas at a rate twice the national average for high school dropouts and had a recidivism rate 10 percent lower than other groups studied.
---