Promo codes: What more online shoppers expect
In a rough economy, millions make a habit of using them during checkout.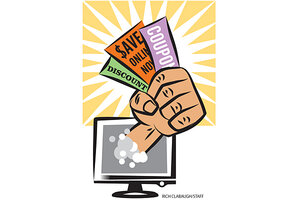 Flowers: $29.99. Chocolates: $25.00. Two tickets to the latest romantic comedy: $19.50 – not including the popcorn.
Amid a recession, the costs of dating could make even the most ardent of suitors wilt.
But retail experts say there's a silver lining for consumers who fear being launched into the red.
Online shoppers who enter specific promotional codes at checkout can save $4 on movie tickets, 10 percent on flowers, and can even finagle a discount on an engagement ring, according to Promotionalcodes.com, one of many websites dedicated to sharing retailers' discount offers.
Retailers used to provide these codes only to select costumers. But an economy in free fall has inspired more consumers to scour the Internet for deals. Minus a few exceptions, stores are desperate to unload merchandise and haven't fussed much about the widespread dispersion of their codes, which can offer consumers serious discounts.
But what retailers may view as a short-term compromise during an economic slump could incite a shift in the landscape of online sales, some retail experts surmise. Customers have gotten used to the deals – and may refuse to return to paying full price once the economy rights itself.
"Consumers are trained to have free shipping and [to] use a discount code. Retailers will attempt to wean them off. But consumers are trained that that's how the process works," says Donna Hoffman, codirector of the Sloan Center for Internet Retailing at the University of California at Riverside. "Depending on how deep the recession is and how long things go ... the more difficult it is going to be" for retailers to make the switch back.
Some 75 percent of online retailers offer promotional codes or coupons, says Lenka Keston, product marketing manager for Promotionalcodes.com. Her organization works with more than 5,000 retailers across the country, and she's seen increases in the numbers of retailers sending her their codes.
---