Newspapers' troubles escalate in recession
Quest intensifies for new revenue streams, but solutions aren't in time to save some.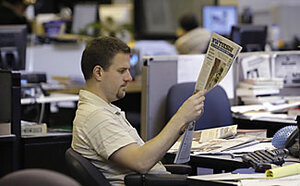 Elaine Thompson/AP
It's the worst of times for the newspaper industry, and it's not the best time, either, for finding solutions amid a crisis of downsizings, bankruptcies, and closings.
The steep recession, on top of a fundamental shift of readers from print newspapers to the Internet, has caused local papers' ad revenues to fall off a cliff. The Tucson Citizen is the latest to announce it will stop publishing if a buyer isn't found by March 21.
Plenty of ideas exist to develop new streams of revenue for the news business, such as a micropayment system like iTunes for a nickel-a-click read of an article or the creation of nonprofit news organizations to fulfill the traditional role of the fourth estate.
But the Project for Excellence in Journalism, in its "bleakest" assessment yet on the state of the media, says in a report released Monday that the industry must expand its search for solutions far beyond those revenue ideas because "no one source is a likely magic bullet."
"In the last year, the business model has deteriorated so quickly it's now 'man the battleships,' " says Mark Jurkowitz, the project's associate director.
---