Fed primes pump as bailout skeptism rises
The central bank plans to buy as much as $300 billion in Treasury debt and purchase more mortgage-backed securities.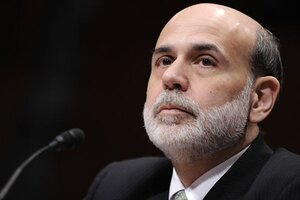 Susan Walsh/AP/File
At a time when bailout fatigue appears to be setting in on Capitol Hill, the Federal Reserve is taking another big-bucks step designed to revive the economy: It will buy long-term US Treasury bonds in a bid to keep interest rates low.
The Fed's announcement Wednesday had an immediate positive effect on bond interest rates and on the stock market. But it also put pressure on the dollar in world currency markets, with the greenback falling sharply 2 percent against the euro. Some analysts expect more decline in coming days.
What may be equal cause for concern is the circumstances within which the Fed acted. Some analysts say Fed officials are responding to a weakening outlook for the global economy and to a rising antibailout mood affecting Washington. It now looks less likely that Congress and US Treasury will pump major new money into fixing the nation's banking system.
"My sense is they're doing the right thing in present circumstances," says Desmond Lachman, a finance expert at the conservative American Enterprise Institute in Washington. "They're hoping to bring the interest rates down" for businesses and consumers, but "we really need to fix the banking system."
---