Fed's treasury-bond gambit: mother of all rescue plans
As much as $1 trillion will lower long-term loan rates like mortgages but it raises the specter of inflation.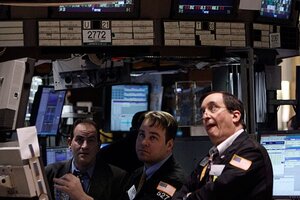 Brendan McDermid/Reuters
The Federal Reserve's unexpected move this week to pump as much as $1 trillion of new money into the economy is being hailed by some analysts as the move "most likely to succeed" in lifting America out of recession. It promises to affect Americans in numerous ways – lowering interest rates on mortgage loans and small-business borrowing.
The Fed's plan is to purchase massive quantities of Treasury bonds and mortgage-related securities in a bid to bring the cost of credit down for ordinary borrowers, and to keep it down for an extended period.
Early reactions were positive: Stock prices rose, Treasury borrowing costs plunged, and mortgage rates fell. But the action is not without risks both to inflation and financing future US debt.
The value of the dollar sank on foreign-exchange markets and commodity prices rose in response – signs that the Fed could lose control of inflation down the road, and make foreign investors less willing to buy America's debt. But many forecasters say the Fed's move boosts the prospects for an economic recovery later this year.
"Of all the things that Washington has put together to get us out of this financial mess, I think what happened Wednesday is probably the most important," says Ed Yardeni, an economist who heads Yardeni Research in Great Neck, N.Y. "This affects so many people."
But markets have shown that the Fed's attempts to energize the economy don't always work as intended. The Fed has already slashed its own short-term interest rate virtually to zero during the past year and has introduced a range of large, innovative programs to get credit flowing again. Yet turmoil in credit markets has persisted, and job losses have mounted.
---