CBO: US deficit ballooning to record $1.7 trillion
Higher forecast will complicate Obama's bid to push spending plans through Congress.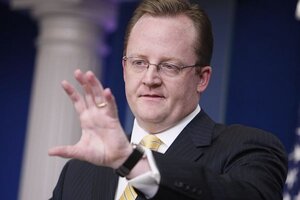 Charles Dharapak/AP
The US budget deficit is turning a deeper shade of red.
On Friday, the Congressional Budget Office (CBO) said this year's budget deficit is now nearly $1.7 trillion, more than $400 billion larger than it forecast two months ago. Next year's deficit will be nearly $1.1 trillion, $430 billion more than its prior forecast. And that doesn't count President Obama's budget plans to cut taxes and increase spending.
Although the deepening recession is partly to blame for the increase, the nonpartisan CBO says the increases are largely due to the sharp rise in spending (think fiscal stimulus package) and the higher cost of saving the financial system.
Political firestorm
The report immediately generated a firestorm of comment in Washington. Republicans said the new numbers ""should serve as a wake-up call" to the administration." The President's press secretary, Robert Gibbs, countered that the new numbers would not affect the administration's effort to cut the budget deficit in half by the end of his first term.
However, some independent budget experts say the sharply rising deficit will change the political context for Mr. Obama's agenda.
---