Even renters who are paid up are getting kicked out
Some 40 percent of foreclosure-related evictions involve renters. Congress and 13 states weigh giving them greater protection.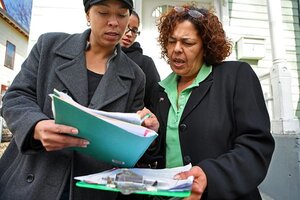 Melanie Stetson Freeman/The Christian Science Monitor
Judith Watler is a landlord's dream. She's lived in Mattapan, a blue-collar Boston neighborhood, her entire life. She's worked for the same healthcare company for 20 years. Her family rented their last apartment for 15 years until May, when they moved into a duplex blocks from the church where the Watlers married and their children were baptized.
But last fall, Mrs. Watler's landlord defaulted on his mortgage and Deutsche Bank foreclosed on the building. Now, the bank wants her family out.
Nationwide, as many as 40 percent of families facing foreclosure-related evictions are renters, and stories like Watler's are drawing fresh attention. Congress and 13 states are considering laws to protect responsible renters and prevent communities from the blight of abandoned buildings that are stripped even of their copper fittings by scavengers, driving down property values.
Earlier this month, Rep. Keith Ellison (D) of Minnesota introduced new legislation that would give tenants who rent on a month-to-month basis 90 days notice after a foreclosure before they have to leave their homes.
Likewise, Rhode Island and Nevada are considering laws that would give tenants more notice when their buildings enter foreclosure. Massachusetts and Connecticut are considering going further with so-called "just cause" eviction laws that allow tenants in good standing to stay in their foreclosed rental homes until they are sold at auction.
---