In hard times, illegal immigrants lose healthcare
In California, some counties consider screening them out from nonemergency services.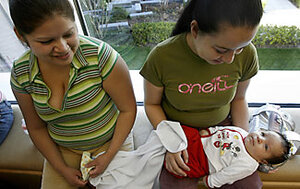 Tony Avelar/The Christian Science Monitor
Jose Cedillo, an illegal immigrant from Mexico, says he has nowhere to turn.
A day laborer since 1986, Mr. Cedillo has received notice from a Los Angeles County hospital that he must start paying out of pocket for the treatment he will need. "I have no choice because I have no insurance and can't work while I'm taking these treatments," he says, sitting in the tiny apartment he shares with his wife, a janitor.
The recession – and a big state deficit ­– is leading some California counties to cut back on nonemergency health services to illegal immigrants. In others, cutbacks in services for the uninsured are hitting illegal immigrants especially hard.
The problem is socking California because it is home to the lion's share of US immigrants, both legal and illegal. The latter are often eligible for healthcare provided to the poor. But health departments across the country are facing budget pressures that are leading to slashed services – and that could reignite the debate over providing medical care to illegal immigrants.
"There simply isn't enough revenue to support the network of services which heretofore has been expected," says Robert Pestronk, executive director of National Association of County and City Health Officials (NACCHO).
In many states, budget cuts mean reduced funding for the uninsured, many of whom are immigrants and low-income families. In Arizona, a $13 million cut from the state budget eliminated funds partly used to reimburse hospitals for caring for the uninsured.
---