Airlines hope to avoid bailout or bankruptcy
The economic picture is grim. But some may turn a small profit.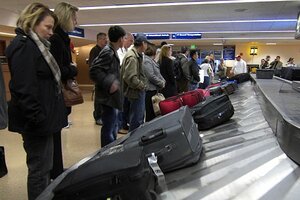 Tony Avelar/The Christian Science Monitor/File
Despite all the grim economic news, the American airline industry remains cautiously optimistic it will make it through 2009 without a bailout or major bankruptcies.
A few carriers may even make a profit, if only a small one.
The reason: Most major airlines have been in economic-crisis mode almost nonstop since 9/11, which has forced them to become leaner, more efficient operations and thus, more resilient during this downturn.
This week the International Air Transport Association announced it had almost doubled to $4.7 billion its forecast of projected losses internationally in 2009. But it also singled out the North American region, saying it was expected "to deliver the best performance in 2009 with a combined $100 million profit."
More solid footing
The American Air Transport Association, which represents major US carriers, has so far declined to make any revenue estimates for 2009, citing the volatile and uncertain economic situation. That's because if the price of oil spikes suddenly, any hope of a profit will disappear with it. Still, the group notes that the industry as a whole is on "fairly solid footing" as it deals with this downturn.
"The airlines have been on this weight-loss program for a very long time," says David Castelveter, a spokesman for the Air Transport Association. "We have made the very hard choices of reducing capacity, laying off employees, deferring airplane orders, [instituting] a la carte prices and putting fuel surcharges in place to weather this storm."
---