Geithner to G-20: Stay the course
'Substantial' fiscal and monetary moves across the globe will get traction, US Treasury secretary says.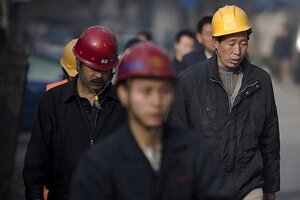 Andy Wong/AP
Global economic trends are the bleakest they have been in 50 years. Trade is falling, international banking giants need to be bailed out, and joblessness is rising around the world.
But in the face of this juggernaut of bad tidings, top US officials are counseling world leaders not to panic – to just stick with what they are doing.
"There is a very substantial amount of fiscal and monetary action in place" across the globe, said US Treasury Secretary Timothy Geithner on Wednesday. "That will start to get traction."
Despite some disagreements, he says, world leaders, on the eve of the Group of 20 economic summit in London, "are fundamentally with us."
US won't be conservative
In past downturns, Mr. Geithner argued in a speech in New York at the Council on Foreign Relations, governments have been too conservative and reacted too slowly. "They put the brakes on too soon," he said. "We won't do that."
A first goal for Geithner and Federal Reserve Chairman Ben Bernanke is to try to stabilize the world financial system. On Thursday, Geithner is set to lay out the Obama administration's framework for dealing with the type of systemic risk posed by nonbanking companies such as AIG, the failed insurance company into which the US government has poured $170 billion. The Obama plan will broaden oversight to include institutions such as insurance companies or hedge funds whose demise could cause a negative cascade effect in the broader economy.
---