Fresh challenge for Germany's car dealers: too many customers
New car sales soared 21 percent in February as a government incentive program sparked buying.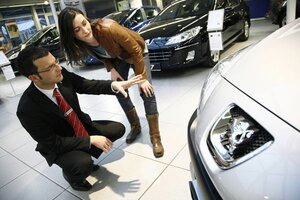 Newscom
Nicole Zimmermann spent the better part of a recent Saturday hunting in vain for a new car. She's got her eye out for something small and peppy: A Volkswagen Polo, perhaps, or a Ford Ka.
Philipp Prase, a Ford dealer in Berlin's Templehof neighborhood, looks a little exasperated; he's had to tell too many customers the same thing: He doesn't even have a Ka sitting in the showroom.
"We won't have any for four, five months," he says.
"Really? That long?" Ms. Zimmermann replies. Other dealers bring similar news of months-long waits for many models, even domestic ones.
The economic crisis might have Detroit's auto giants on the brink of going bust, and some American dealerships might face bankruptcy. But here in Germany, Europe's largest car market, something like a boom is under way and dealers are having a hard time keeping their lots full.
In February, the same month that saw Detroit's Big Three post sales declines of nearly 50 percent, new car sales here shot up 21 percent, and could go higher this month. The reason: An incentive program from the German government that is putting €1.5 billion ($2 billion) into the pockets of consumers if they turn in their old junkers and buy a new, more environmentally friendly car.
That amounts to €2,500 per person for the first 600,000 cars sold.
---