Jobless rate hits 8.5 percent, a 26-year high
The US has lost 2 million jobs this year, but some of the unemployment numbers could indicate that the recession is finally starting to bottom out.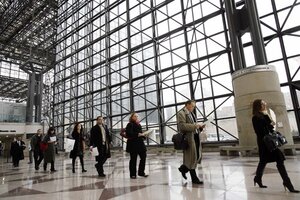 Shannon Stapleton/Reuters
In a normal March, businesses put out the "help wanted" signs to get ready for a more vigorous spring. But this time, many bosses were in survival mode and decided not to add to their payrolls.
As a result, America's jobless rate in March hit 8.5 percent, the highest level since November 1983.
Overall however, businesses didn't lay off as many workers last month as they did earlier in the year. That easing may be a sign that the recession is finally starting to bottom out, some economists say.
"The job losses are like a ski slope: They were steep at first, and now we are leveling off," says David Wyss, chief economist at Standard & Poor's in New York. "When we get down the bottom of the mountain, there may be a chair lift in the distant future."
On a nonseasonally adjusted basis, only 58,000 jobs were lost last month, compared with the 172,000 that disappeared in February, according to the US Labor Department.
The government also releases adjusted figures, however. These take into account seasonal work and other normal hiring practices, which make one month comparable to the next. On this basis, the economy lost 663,000 jobs in March and 651,000 in February.
The economy has shed more than 2 million jobs in the first three months of the year, on the seasonally adjusted annual basis.
---