Job migration to suburbs: an unstoppable flow?
Stimulus funds should be used to link city residents with distant suburban jobs, says a new study on job-siting trends.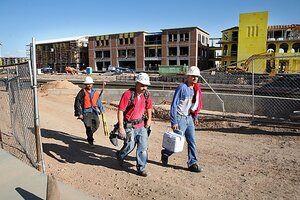 Melanie Stetson Freeman/Staff/File
It's called "job sprawl," the not-so-distant cousin of "urban sprawl."
It's easy to find jobs moving to the suburbs in places like metropolitan Detroit, Los Angeles, Philadelphia, Dallas, and Chicago. Most weekday mornings, suburban thoroughfares are jammed with commuters trekking to their jobs – in their own communities. Employers, eager to establish leafy campuses in the suburbs in a bid to reduce commute times, are only adding to the local congestion. The trend, moreover, is probably immune to the ups and downs of the economy, concludes a study released Monday by the Brookings Institution.
Yes, even a deep recession may not affect where jobs of the future are located – although the study's author says states and cities should use some of the federal stimulus money now flowing their way to reverse part of the job outflow.
Jobs leaving the cities include professions such as finance and insurance, which have long been centralized in city centers. As jobs move farther out, low-income workers increasingly lose out because many lack transportation to get to those jobs and cannot afford housing near them.
"There are a lot of implications for today," says Elizabeth Kneebone, author of the report, "Job Sprawl Revisited: The Changing Geography of Metropolitan Employment." "The current environment is a good opportunity to try to reverse some of these trends because we have billions in the stimulus package, and how we spend the money will have an impact on these regions."
State and local governments have the best opportunity to use the money to reshape their communities, says Ms. Kneebone. They will be getting money for new roads, mass transit projects, and housing.
---