10 ways the new economy will look different
From the rise of the tightwad to the decline of the Sun Belt, American values and industries will be reinvented as the nation comes out of the worst recession since the 1930s.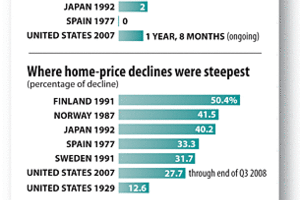 Rich Clabaugh/Staff
On Sept. 18, 1873, weakened by investments in the ill-conceived Northern Pacific Railway, the big Philadelphia banking firm Jay Cooke & Co. went bankrupt. A national economic crisis followed – one with eerie parallels to the grinding recession of today.
Cooke & Co. was the Bear Stearns of its time, a pillar of national finance. If it could fail, anyone could, and the US stock market collapsed that awful autumn. The price of real estate, railroads, and other hard assets crashed, too. Banks fell like wheat before a reaper. Deprived of credit, Main Street commerce suffered. Unemployment reached 25 percent in big cities. The Panic of 1873 eventually led to 18,000 business bankruptcies. National production shrank for six years. Yet a new and stronger US economy emerged from the wreckage.
The builders of railroads and canals had gone bust, but they left a transportation infrastructure that in time bound regions together. Commodities – kerosene from Eastern coal, wheat from Western fields, canned fruit from Southern orchards – flowed down this web to the great ports of the US seaboard. Ton by ton, America remade itself into an export powerhouse, the China of the day.
"These goods helped pull the US out of recession," says Scott Reynolds Nelson, a historian at the College of William and Mary in Williamsburg, Va.
---