Obama's message on the economy: Trust me
The president appears to be trying to use his own popularity to push through a tough agenda.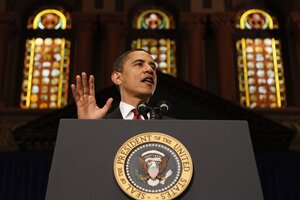 Gerald Herbert/AP
Trust me, we've got a strategy. This whole thing fits together. Even the parts you don't like.
In essence, that's what President Obama appeared to be trying to convey to US voters in an unusually long and detailed address on the economic actions of his first 75 days in office, delivered at Georgetown University Tuesday.
"I want every American to know that each action we take and each policy we pursue is driven by a larger vision of America's future," said Mr. Obama, arguing for the coherence of his stimulus, budget, and financial bailout programs.
And the end result of this strategy will be something more durable than what came before, he argued, as the insubstantial foundation of the prosperity of the Bush years is replaced by a more stable, long-term oriented platform for growth.
"We cannot rebuild this economy on the same pile of sand. We must build our house upon a rock," Obama told an audience of students and faculty members.
The address – billed as "major," despite the fact that it contained no new policy prescription – comes at a crucial time for the new administration's domestic agenda.
The looming deadline of Obama's first 100 days will be treated by the press and Washington policy community as an important milestone at which to judge what has happened so far. And the economy remains in the grip of a vise-like recession – despite the fact that there are an increasing number of signs that the worst of the downturn now may be behind us.
---