In Canada, an innovative way to rebuild roads, hospitals
British Columbia's 'private-public partnerships' have been touted as a model for the US to revamp its infrastructure.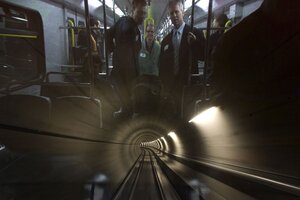 Andy Clark/Reuters
British Columbia's political leader Gordon Campbell recently stepped aboard Vancouver's new light transit system and into the world's spotlight as one of the leading proponents of a burgeoning movement to twin the public and private sectors in building everything from bridges to roads and hospitals.
The Canada Line, a $2 billion light transit system running between Vancouver's downtown waterfront and the city's airport, is the latest in a string of public-private partnerships, or P3s, built in B.C. and being touted as a model for rebuilding America's infrastructure.
Typically, in a private-public partnership, government invests in the project, along with a private sector consortium which develops, builds, maintains, and operates the asset for a contracted period. The consortium often involves multiple international contractors, a maintenance company, and bank lenders.
While not everyone believes in the successful marriage of these seemingly unlikely business partners, California Gov. Arnold Schwarzenegger, for one, is a fan of B.C's P3 model.
Governor Schwarzenegger toured the Canada Line project site two years ago alongside Premier Campbell and has since been promoting B.C.'s experience as a template for financing and building public sector projects in California. He reiterated his praise for B.C.'s infrastructure partnerships following a meeting with President Obama last month to discuss future infrastructure projects – beyond the $787 billion federal stimulus package – that also included New York Mayor Michael Bloomberg and Pennsylvania Gov. Ed Rendell.
---
Follow Stories Like This
Get the Monitor stories you care about delivered to your inbox.