Buried by credit-card fees? Washington is on it.
Obama is to meet this week with banks about card-holder complaints. Congress is weighing a 'bill of rights' for borrowers.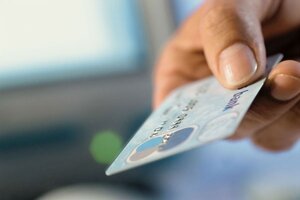 Newscom
Forget the credit-card designer colors, the low-interest "teaser rates," and the reward programs. It's time to look at the fine print of credit cards, and, to some, the higher costs outlined there are "ugly."
Tales of soaring interest rates and fees for credit-card holders have captured Washington's attention, which will focus this week on possible remedies. Congress, which has not addressed substantive credit-card reform in decades, is close to approving a "credit-card holders bill of rights," and President Obama is set to meet with banks and credit-card issuers on Thursday about consumer complaints, especially sky-high interest rates, according to Lawrence Summers, the president's chief economic adviser.
"Once the ... chief economic adviser says the president is focusing on credit cards right now, that is issue No. 1, no question," says Joel Naroff of Naroff Economic Advisors in Holland, Pa. "In terms of credit cards, we are in the process of going from irresponsible to responsible, and that process [of adjustment] is ugly – and that's what we are involved with right now."
Banks, which are seeing defaults and delinquencies rise on credit-card debt, are expected to tell Mr. Obama that they are taking steps to minimize their risk by raising rates and limiting their costs. Moreover, they say, it costs more for them to borrow and then relend to consumers because the securitization market for credit cards is still frozen.
---