Education gaps create 'permanent recession,' report says
A new report calculates how much money the US has lost by not meeting its education goals.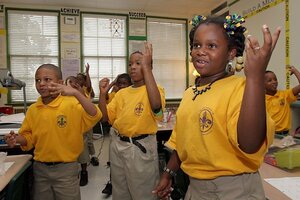 Nicole Hill/The Christian Science Monitor/File
Educational achievement gaps are typically measured in terms of test scores – across lines of race and income, or even across state and national borders. But what if they were measured in dollars?
A report released today estimates how much better off the economy would have been in 2008 had achievement gaps been closed between 1983 and 1998 – the 15 years following a landmark report on education, "A Nation at Risk."
Achievement gaps in the United States impose "the economic equivalent of a permanent national recession," the report concludes.
It suggests that US economy would have gained:
- $400 billion to $670 billion – or 3 to 5 percent of gross domestic product (GDP) – if students from homes with incomes below $25,000 had risen academically to the level of those above $25,000.
- $310 billion to $525 billion – or 2 to 4 percent of GDP – if African-Americans and Latinos had caught up academically with whites.
- $425 billion to $700 billion – or 3 to 5 percent of GDP – if below-average states had performed at the average level.
- $1.3 trillion to $2.3 trillion – or 9 to 16 percent of GDP – if the US performed at the level of top-performing nations on PISA, an international test of 15 year olds.
By comparison, in the current deep recession, the US economy is falling about $1 trillion short of its output potential, notes the report, published by McKinsey & Company, an international consulting firm with an office in Washington.
From President Obama to governors to parent groups, a growing chorus of voices is linking education to the nation's economic future.
---