Home sales slide in March
Sales of existing homes fell 3 percent from February to March, but activity with lower-priced units may be picking up.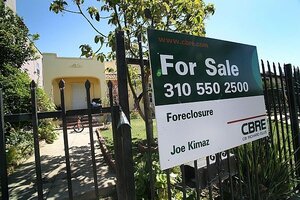 Aurelia Ventura/Newscom
A spring season of strong sales is crucial for the housing market. But so far, there are still more "for sale" signs than sold signs.
In the latest indication that the housing market is not snapping back, sales of existing homes fell 3 percent in March to 4.57 million units, after rising in February, the National Association of Realtors (NAR) reported. Also, home prices keep slipping, falling 12.4 percent from March 2008, according to the NAR.
However, it appears that first-time buyers are stepping in, attracted by lower home prices and near-record low mortgages.
The decline in the housing market is one of the factors weighing on the economy. As Americans watch the value of their homes decline and their neighbors struggle to sell their homes, they tend to be more conservative in their spending habits. When losses in the stock market are also considered, Americans' average household wealth dropped 18 percent last year, or the equivalent of their annual income.
"When you're poor, you don't spend as much money," says David Wyss, chief economist at Standard & Poor's in New York. "And we're seeing a sharp reduction in spending."
Despite the fall in the housing numbers for March, there appears to be more activity in lower-priced units. In fact, first-time buyers accounted for 53 percent of transactions, a NAR survey of realtors found last month. Many of the buyers, which tend to go for lower-priced units, appear to be in three states: California, Arizona, and Nevada.
---