Smaller banks overlooked and in trouble
The federal government is focusing on America's largest banks, but many smaller banks – which are deeply entwined in local communities and crucial to recovery – are sliding toward possible failure.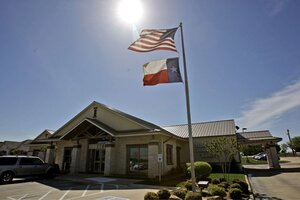 LM Otero/AP
Troubles at small or mid-size banks – not just the giants of Wall Street – are becoming a big issue for the economy.
These banks may not have been dealers in complicated mortgage-based securities, but many are feeling the strain of an economic downturn. How they navigate the recession will help determine the shape of an economic recovery, since millions of American households and businesses rely on them for credit.
While the most of the nation's 8,000 banks are in sound condition, 2,000 of them now get an "F" grade in a stress index prepared by Institutional Risk Analytics, a Torrance, Calif., firm that tracks the industry. That number, up from about 700 two years ago, doesn't mean all those firms are at risk of failure. But it's a sign of performance that's has deteriorated significantly more than average during the recession.
And it's the biggest banks that are getting most of the federal rescue money.
"The trouble is: What about the thousands of others banks?" says Rajeev Dhawan, director of the economic forecasting center at Georgia State University in Atlanta. "Before consumers can spend, they need to get the credit to do it."
He says community banks in small cities are generally in good shape, while many big-city banks are feeling more of a squeeze now – partly because of rising losses on construction loans.
"Somebody may have to put more money into the FDIC," he says, referring to the agency tasked with mopping up most bank failures.
The Federal Deposit Insurance Corp. has 252 banks on its "problem list." The FDIC has assumed control of 25 failed banks so far this year, up from two in the same months last year.
This past weekend, the FDIC intervened at small banks in Nevada and Missouri.
---