Doubts about Geithner persist
Lagging poll numbers for the Treasury secretary reflect continuing anger over bank bailouts.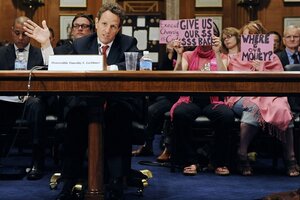 Jonathan Ernst/Reuters
Next time he testifies before Congress, Treasury Secretary Timothy Geithner might want to case the room first.
On Tuesday, protestors snagged the seats behind him prior to a hearing on US bank bailout policies. On C-SPAN, viewers saw Secretary Geithner defending administration actions – while a pink placard saying "GIVE US OUR $$$$$ BACK" waved right behind his head.
One hundred days into the Obama administration, the president himself remains hugely popular. According to polls, the US public trusts him to do the right things to fight the recession now gripping the nation.
But the president's boyish, wonky Treasury chief? Not so much. Geithner's public ratings are not as high as those of his boss. Nor are poll respondents so sure they like what he's doing.
It's a disparity that could hint at trouble to come. Geithner's polls may reflect widespread anger about the financial industry rescue he oversees, more than unease with him personally. And that anger could limit White House options for further action as it continues to try to stabilize the nation's credit system.
"People are angry because they are paying for programs that haven't been fully explained.… They want to see that taxpayer money is used to advance the public interest, and not just the interest of Wall Street," said Elizabeth Warren, a Harvard law professor and chairman of the Congressional Oversight Panel, at Geithner's April 21 appearance before the panel.
---