Is America ready for eco-fashion?
Fair-trade clothing is a hit in Europe. But some wonder if American will buy into this trend.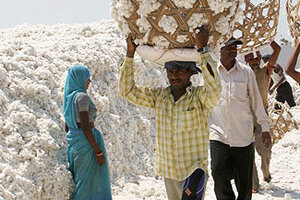 Mario Lopez/AP
Now, People Tree faces perhaps its biggest challenge. In the midst of the largest global recession in postwar history, will cash-strapped consumers keep snapping up the company's premium-priced fair-trade apparel?
It's a question the entire fair-trade industry is asking. The whole premise of fair-trade goods ­hangs on the idea that first-world consumers will pay a little extra to give third-world artisans and farmers a living wage. A deep recession could stop fair-trade companies in their tracks.
So far, that hasn't happened here in Britain. By this summer, Cadbury expects all its Dairy Milk bars in Britain and Ireland to be made from fair-trade cocoa. By year end, Starbucks plans to serve only fair-trade coffee in the United Kingdom. In 2008, sales of fair-trade certified cotton doubled from 2007 levels to 20 million units.
"Fair trade can compete if it comes in at a slightly higher price, or even a significantly higher price," says Vanessa Paar, business development manager at Fairtrade Foundation, which grants fair-trade status to products sold in Britain and is one of 20 national certifying groups operating under the umbrella of the Fairtrade Labeling Organizations International. "It depends on the aesthetic of the garments, economies of scale, and the business strategy."
---