Home prices less dismal, but still falling steeply
They had been dropping at record levels for several months, but a new report says the decline eased slightly in February.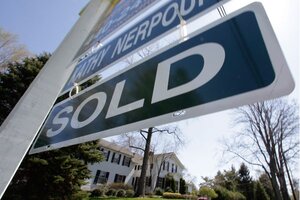 Amy Sancetta/AP
The pace of decline in US home prices has been easing a bit, but the downward trend still persists from New York to Seattle.
That's the message from recent housing-market numbers, including the release of the widely watched Standard & Poor's Case-Shiller home price index Tuesday.
After months of record year-over-year declines, the new monthly report, covering February, did not show a record decline. Still, the fall in prices for 20 major cities remains steep – down more than 18 percent in the past year.
Perhaps most notable, the downward trend runs nationwide. Despite the somewhat softer pace of declines, home prices fell in February in all 20 cities. The pattern now may be more connected to the weak economy than to the popping of a bubble in once-hot markets like Phoenix.
"Housing prices … are no longer falling off a cliff. Instead, they are rolling down a steep hill," says Patrick Newport, an economist at IHS Global Insight in Lexington, Mass., in a report analyzing the numbers.
---