In Chrysler bankruptcy, GM gets glimpse of one road ahead
In coming weeks, talks among GM stakeholders could be influenced by how the judge in the Chrysler case treats creditors.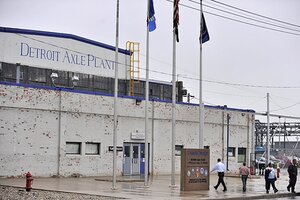 John T. Greilick/Detroit News/Newscom
The bankruptcy of Chrysler could serve as a test case for the Obama administration as it prepares for the possibility of taking another automotive giant, General Motors, down the same path.
President Obama hopes that the Chrysler bankruptcy will be a relatively quick process that will help save thousands of US factory jobs.
One promising sign is that Chrysler has filed for a Chapter 11-style bankruptcy, from which it may emerge as a viable carmarker. A month ago, a White House task force gave a bleak assessment of the company's prospects, and the firm appeared headed for possible liquidation under Chapter 7 of the bankruptcy code.
Even now, however, the court process for Chrysler may not prove quick or simple.
Its efforts to develop a government-backed restructuring plan have faltered on the same issue that has snagged GM – a battle with creditors who hold company bonds. Chrysler has been bargaining with creditors out of court for weeks, to little avail. If the negotiations don't go better in court, it could send an alarm signal to GM.
"At this point, it could go either way," says Jeremy Anwyl, CEO of Edmunds.com, an automotive information service based in Santa Monica, Calif. "The next couple of weeks are really going to paint the picture of whether this is something that is quick [or not]."
---