Trapped in TARP? Banks eager to exit the US bailout program find it's not so easy.
A hasty exodus could weaken the wobbly banking system, US officials say. They're poised to raise the bar for those wanting out of the Treasury-runprogram.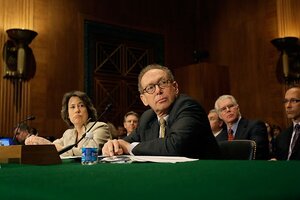 Alex Brandon/AP
It's a club they were strong-armed to join, in a way. And now it is turning out to be harder to resign than they had envisioned.
That's the situation with some US banks and TARP, the Treasury's $700 billion Troubled Asset Relief Program.
Financial firms that want to return their TARP cash will have to show they can do without help from another government bailout effort, debt guarantees provided by the Federal Deposit Insurance Corp. (FDIC), US officials said Wednesday.
The point of this linkage is to show banks "they can't just pick and choose what federal programs they'll participate in," says Martin Neil Baily, a senior fellow in economic studies at the Brookings Institution.
Congress authorized TARP last October, amid the uncertainty of the worst of the world liquidity meltdown. Its first use came when Henry Paulson, then Treasury secretary, called in the heads of some of the biggest US banks and strongly advised them that it would be in the best interests of the country if they accepted an infusion of TARP cash. The move was seen as a means of instilling confidence in the US financial system.
Many of these bankers saw the funds as cheap capital. Hundreds of smaller institutions eventually signed up to participate in TARP as well.
But the bailout has been unpopular in Congress. Lawmakers attached new conditions to the program, including limits on executive compensation, following reports that TARP money was paying for executive bonuses and retreats.
Since then, some financial firms have soured on TARP. These program participants chafe at the restrictions and worry that membership in the association of TARP recipients will brand them as weakened institutions.
---