Harnessing the power of proxy to expand the voice of shareholders
Individual investors normally feel powerless at shareholder meetings, but one man is trying to rally them together through a "Global Proxy Exchange."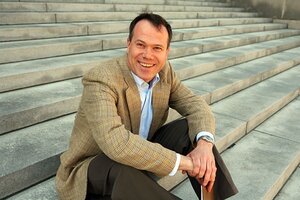 MELANIE STETSON FREEMAN/STAFF
Say you're a small investor fuming over falling stock prices or irate over grandiose executive pay. Amid this spring's proxy season, when many companies hold their annual shareholders' meeting, you may wonder whether your beefs will get much airing.
The typical answer is "no." Many don't bother to vote via the proxy card that companies send out. Even if individual investors attend shareholders' meetings and bone up on issues such as executive pay and the election of directors, they're still dwarfed by big institutional investors with much greater voting power.
Dwarfed, that is, unless they band together.
Enter Glyn Holton, a financial risk-management consultant in Cambridge, Mass., who dreams of empowering shareholders the way some activists dream of spreading democracy.
"Owners of corporations lose control over the companies they own," he says. And "that gives management free rein to run the company in their own interests."
His solution: A system in which individual investors could assign their proxy to an entity – a like-minded person or organization – that would vote for them. Mr. Holton hopes to make this massive plan work through what he calls a "global proxy exchange" (GPE).
With shareholders angry about everything from falling stock prices to executive compensation, this is arguably the best time in decades for activists to challenge the way corporations handle proxy votes.
---