Where can working Americans afford a home?
They are still priced out of the housing market in many cities across the country, a new study concludes.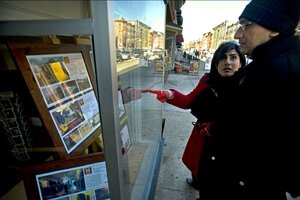 Ann Hermes/The Christian Science Monitor/FILE
Housing prices may have plummeted, but they're still not affordable for many working men and women in America.
The National Housing Conference Thursday released its annual "Paycheck to Paycheck" report, which compares workers salaries and home prices in more than 200 communities across the country.
The bursting of the real estate bubble has made owning a home more affordable for some, with the median price of a home dropping 14.5 percent nationally in the past year, the report concluded. But the majority of essential workers like teachers, police, and firefighters still cannot afford to buy a home in the towns and cities where they work, it added.
The "Paycheck to Paycheck" report takes an in-depth look at construction-related jobs, which are expected to get a boost from the Obama administration's stimulus package. It analyzed five jobs: construction managers, carpenters, equipment operators, long-haul truck drivers, and construction laborers. It concluded that only construction managers, who make about $100,000 a year, can afford to buy a home in the 208 housing markets analyzed.
Carpenters were able to afford to own a home in 51 of the 208 studied markets, and equipment operators in 35 markets. Construction laborers were priced out of 196 of the communities.
"Just because prices are falling, that doesn't mean that we have seen an end to the problem of affordability, because for many people, particularly at the low end of the income spectrum, people are losing their jobs or their hours are being cut back," says Nicolas Retsinas, director of Harvard's Joint Center on Housing Studies.
---