Loss of US jobs is slowing, but hasn't stopped
"There is light at the end of the tunnel, and it is getting brighter," says one economist.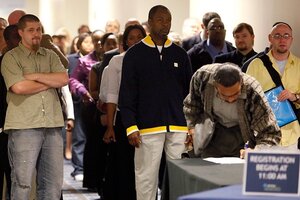 Kiichiro Sato/AP
The US employment outlook has been down so long that any moderation in job losses may look like up to American workers.
Consider it this way: the economy shed 539,000 jobs in April, according to Labor Department figures released May 8. A year ago economists would have considered that a horrendous decline. But in the context of the recent downturn, that figure may not seem so bad. In March, employers eliminated 699,000 jobs. In February they cut 681,000.
Overall, the labor market is still deteriorating, in the sense that more workers will lose more jobs in months to come, and the unemployment rate will continue to rise. But the deceleration in losses means the bottom of the current horrendous recession may be near, or even past.
"There is light at the end of the tunnel, and it is getting brighter," said IHS Global Insight chief economist Nigel Gault in an analysis.
President Obama echoed this point of view on May 8 in short remarks on the economy and job creation. While the unemployment figures represent a sobering toll, said Obama, the gears of the economy appear to be turning again. "Step by step we are making progress," he said.
It's undeniable that the last six months have been grim for US employees, particularly blue collar ones. The unemployment rate is now 8.9 percent, the highest it has been since 1983. The total number of unemployed is now 13.7 million, up from 13.2 million in March.
---