With few businesses hiring, students start their own
More students are turning to entrepreneurship, often with the help of campus programs.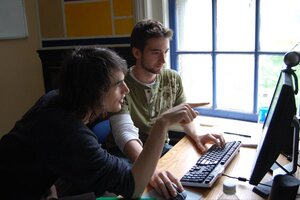 Bridget Huber/The Christian Science Monitor
When Kate Harrison entered a master's program in environmental management at Yale University, she figured she would use her previous law degree to find a clerkship or work for an environmental firm after graduation.
Instead, as commencement nears, Ms. Harrison is working for her own Internet company that she founded while at Yale: TheGreenBrideGuide.com, a website that connects couples who want an environmentally-friendly wedding with "green" products and services.
With unemployment at a 25-year high and job prospects dim, more college students are looking to start their own businesses. Many are turning to on-campus entrepreneurship centers, which are reporting an upsurge in student interest. And while starting a business in this economic climate may be challenging, students are finding there are advantages, too.
"If you were looking for a job two years ago, when there were all sorts of great jobs and lots of hiring, you were going to go for the safe and secure thing. But now, if that opportunity isn't so safe and secure, [entrepreneurship] looks better," says Tim Kane, an economist and senior fellow at the Ewing Marion Kauffman Foundation, which studies and promotes entrepreneurship.
Harrison, who started her website after turning the research she did for her own green wedding into a book, agrees. Though she knew that she eventually wanted to grow her own business, she initially looked for jobs in environmental policy. "A lot of the firms I was looking at are having hiring freezes right now. [I] put some feelers out, and thought, 'Wow, this would be a tough market.' "
How campus programs help
---