Only 43 homes built in three months? Must be Miami.
In South Florida, new home construction has virtually stopped and builders and workers are struggling to survive.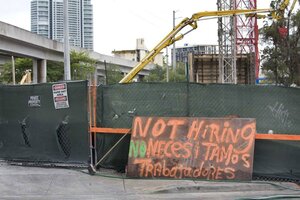 Rachel Feierman /Sipa Press/NEWSCOM/file
It used to be a busy scene on the sidewalks of Miami's 184th Street at dawn. Armed with lunchboxes and sun hats, day laborers once clustered here in the hundreds, awaiting pickups from building contractors eager for their energy and manual skills.
Away in the distance stretches the city skyline they helped build, with its luxury high-rise condo towers overlooking Biscayne Bay glinting in the morning sunlight, a lasting symbol of Miami's once red-hot building boom.
"Construction was so good, so busy, that cars were lining up at 6 a.m. looking for workers. There would be almost 200 day laborers. Times were good," says Selene Echeverria, director of WeCount!, a community organization that assists immigrant workers in Miami-Dade County.
But now it's a different story. Miami's condo bubble has burst, new home building in south Florida has virtually ground to a halt, and contractors who once cruised 184th St. looking for labor are left seeking work themselves.
"Now you don't see more than about 20 workers waiting in the mornings," says Ms. Echeverria. "Many have moved to other states to look for work, many of them have gone back to their home countries. We give them food or help them find other income – but it's sad, very sad."
While the property crash and home-construction slowdown are familiar stories across America, south Florida is at the epicenter of the crisis, its market saturated with surplus inventory.
"New starts are almost zero or negligible," says Brad Hunter, chief economist for Metrostudy, a national housing market research firm.
---