New round of foreclosures delivers blow to recovery
Foreclosures hit new highs in April and more are expected in months ahead.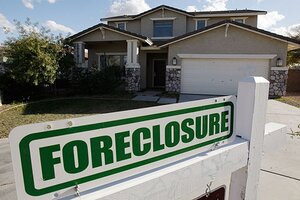 Ross D. Franklin/AP/File
A second wave of home foreclosures is sweeping the nation, but this time the blame lies with the recession and "liar's loans" to people who had no proof of income ­and not with the infamous subprime mortgages that first triggered a full-scale housing crisis.
In fact, it's hard to pinpoint any single reason for the second wave. Just name a recent economic development – credit-card company crackdowns, the challenge of paying off large student loans, rising joblessness – ­ and it's another contributor to a foreclosure, say some housing analysts. Moreover, foreclosure moratoria, which some states enacted late last year, have been lifted, sending a fresh gush of foreclosure proceedings into the pipeline.
"The sky is falling," says John Taylor, president and CEO of the National Community Reinvestment Coalition, a Washington-based group that has tried to make housing affordable. "We all wanted things to get better, but it looks like foreclosures are going to worsen."
A 'serious weight' on the economy
The new rise in foreclosures is likely to have some large-scale implications. As banks take over properties, they will probably put them on the market, adding to the downward pressure on home prices and further destabilizing the industry. Banks themselves could see another period of losses if foreclosures continue at these rates. And any further problems at the banks could spill over to the economy at large.
"This is a serious weight on the economy," says Mark Zandi, chief economist at Moody's Economy.com. "It may not stop the economic recovery, but it could mute it."
The latest evidence that foreclosures are becoming a larger problem came Wednesday when RealtyTrac, which compiles foreclosure data, reported that last month 342,000 households received at least one foreclosure-related notice. That's up 32 percent compared with notices issued last April and marks the second consecutive month when at least 300,000 households got a foreclosure filing.
---