General Motors sends pink slips to 1,100 dealers
The company hopes to shrink its current pool of 5,969 dealers to about 3,600 by 2010.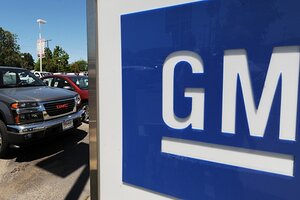 Mark Ralston/AFP
General Motors began notifying 1,100 of its dealers today that it plans to discontinue their franchises.
The announcement comes just one day after Chrysler sent notices to 789 of its dealerships, informing them they would soon no longer be able to sell new Chrysler vehicles.
Unlike Chrysler, which undertook its actions as part of a bankruptcy filing, GM does not intend to make the list of discontinued dealers public. It will most likely result in the company choosing not to renew its dealership agreements with those that received the bad news, allowing those effected to "wind down" their businesses by October 2010. Chrysler's "rejected" dealerships will likely be forced to end their new car sales by June 9.
Ricky Smith received the bad news this morning, in the form of a letter from Federal Express. Just two days ago, Mr. Smith was certain his dealership, Ricky Smith Buick Pontiac GMC, in Weymouth, Mass., would survive the dealership shakedown.
"We are as confident as you can feel with the ax hanging over your head," he said Wednesday. Today, however, Smith was in shock.
He's worked at the dealership for 37 years. "I'm very disappointed. Something we've worked so long for is in jeopardy of going away."
---