Housing slump rekindles old notion of putting down roots
Americans are moving less than at any time since 1948. Many are just waiting to relocate, but some may be embracing a new era of nesting.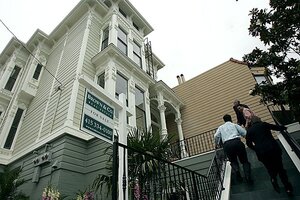 Jeff Chiu/AP
It could have been Seattle or possibly Portland, Ore. Nashville, Tenn., and Chapel Hill, N.C., were in the running, too.
Jeff Brooks and Daisy Whitney have been on the hunt for a lifestyle change. They yearn for a different part of the country, a place less expensive than the Bay Area where their careers wouldn't be all-consuming. Even though the couple is successful – he runs a multimedia production company and she's a well-known technology reporter – they afford living here by working 15-hour days and spending too much time with their laptops and not enough with their two children.
"But in the end, like everything else in life, it came down to money," says Mr. Brooks. And with the average price of houses down 25.8 percent over the past year in Marin County, where they live, it seemed unlikely they would make enough money from selling their home to justify an expensive out-of-state move. "By the time it was said and done, there wasn't that much of a savings."
---