Extreme job hunt: Applicants ditch resumes for guerilla tactics
When traditional job-hunting methods fail, some are turning to the unconventional.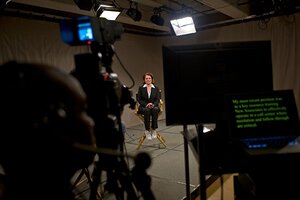 Ann Hermes / The Christian Science Monitor
As unemployment climbs, jobless Americans are doing more than asking for a job. Some are affixing résumés to their cars. Others are posting job appeals on YouTube. A few are even offering rewards for job referrals. To quote a lyric from the musical "Gypsy," some people have decided that "you gotta have a gimmick" these days to land a job.
Take Pasha Stocking of East Hampton, Conn. She paid more than $1,000 to rent a billboard in April on Interstate 95 in Bridgeport. It sported her larger-than-life picture and the words "Hire Me!" The single mother of three, who lost her job as a marketing and sales director last June, says she's received at least 300 e-mails and a few job prospects as a result of the billboard, after months of getting nowhere. "I definitely think I'll get a job offer out of it," she says in a phone interview.
Then there's Jann FritzHuspen. After 18 months of looking for work, in September she express-mailed a coffee mug along with her application to three prospective employers, asking each if they'd meet her for coffee. Two ignored her. The third agreed and, a month later, offered her a job as executive director for a nonprofit organization in Roseville, Minn.
---
Follow Stories Like This
Get the Monitor stories you care about delivered to your inbox.