This summer's gas price forecast better than last
The higher prices, linked to rising oil costs, are still lower compared with last Memorial Day.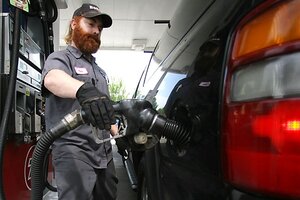 Rick Bowmer/AP
Gasoline prices, which surprised many by jumping 27 cents a gallon in the past month, may be within 10 to 15 cents from topping out, some energy experts say.
The argument for gasoline prices stabilizing or declining goes like this: The US economy is still not out of the woods. In fact, demand for gasoline remains moderate. And, if gasoline prices continue to rise for whatever reason, refiners will step up production since they have plenty of spare capacity.
"We'll see supplies start to come back and that will take edge off," says Sander Cohan, an energy analyst at Energy Security Analysis Inc. in Wakefield, Mass. "Prices usually peak after Memorial Day, perhaps sometime in June."
But for this Memorial Day weekend, the rising prices – now at $2.36 a gallon according to AAA – mean it will cost more to get to Uncle Joe's annual backyard barbeque.
"It will just be a minor increase in the cost of the trip," says Geoff Sundstrom, a spokesman for AAA, the national motor club based in Heathrow, Fla.
Americans plan to drive 640 miles this weekend, AAA found in a survey. Factoring in the nation's average fuel economy, this will mean the trip will cost an extra $6.97, hardly a budget breaker.
Lower fuel prices compared with last year are a prime reason AAA recently predicted that travel this Memorial Day will rise by 1.5 percent, or 500,000 travelers, compared with a drop of 10 percent last year when gasoline prices were $3.94 a gallon, $1.58 higher than this year.
---