After the mall: retrofitting suburbia
As it once sucked the life out of Main Street, the suburban mall is being reconsidered – or torn down – as towns move back to the concept of a multiuse town center.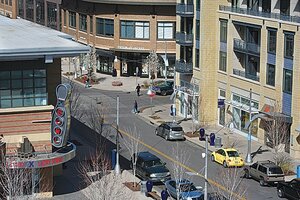 Reprinted with permission of John Wiley & Sons, Inc. Ellen Dunham-Jones, June Williamson, Retrofitting Suburbia, 2009
Few here have forgotten the Villa Italia, the hulking, whitewashed mall that once spilled across the skyline of central Lakewood. Unveiled in 1966, the Villa was the largest indoor shopping center west of the Mississippi River and east of California. The gaudy main hall – ornamented to evoke the charms of old-world Europe – played host to hundreds of after-prom parties, first dates, and all-day festivals. In its heyday, in the 1970s and '80s, the Villa anchored this large, affluent Denver suburb, which never had a Main Street to call its own.
Then in the '90s, like hundreds of malls nationwide, the Villa began to lose its luster. First went the jewelry stores and the luxury-goods boutiques. By 2001, destination department stores such as Montgomery Ward and JCPenney had vanished, too, and with them, most of the foot traffic. The kids who hung out in the food court decamped for more vibrant locales; the corridors grew hushed. The once-great mall became a cemetery of dollar stores and a glorified walking track for senior citizens. In 2003, it was mercifully reduced to a pile of rubble.
For at least a decade, Americans have been regularly reminded that the indoor mall was hurtling toward obscurity. The causes were manifold: the rise of Internet shopping, the sharp spikes of an ailing economy, the success of Wal-Mart and its big-box kin, the fading relevance of mall culture.
---