'Shadow market' may undercut real estate rebound
Only 30 percent of foreclosed homes are currently on the market nationwide. Could the backlog of hundreds of thousands of empty or rented homes swamp recovery?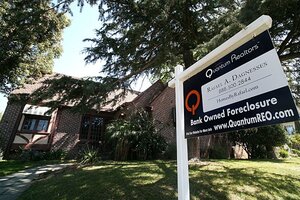 Aurelia Ventura/La Opinion/Newscom
Brian Mehigan, the self-described "Mayor of Tara Lane," knows all too well the rise and fall in real estate prices that he calls, simply, "the madness."
One of a handful of original owners left in this decade-old Phoenix-area subdivision, the freelance plumber can tell you the fate of homes up and down his street. He points them out one by one: That one's for sale, that's now a rental, rental, foreclosure, short sale, foreclosure, original owner.
"Who knows what's going to happen," says Mr. Mehigan, as he keeps a watch on the street. "All I know is I'm not going anywhere."
In the cookie-cutter burbs ringed by saguaro groves here in the shadows of the White Tank Mountains, there's new hope for neighborhoods in disarray after the housing quake. Plumbers like Mehigan are busier, and Phoenix real estate is suddenly red-hot as buyers snap up bargains.
But, despite the short sales, foreclosure sales, and the burgeoning rental inventory, there's also a massive "shadow market" of empty or rented homes yet to come on the block, as banks try to optimize returns on failed investments and homeowners hold off, waiting for a rebound.
In this foreclosure capital – over 75 percent of homes on the market in Phoenix are owned by banks – such a big backup of inventory could affect streets like Tara Lane for years to come. And it could dramatically impact the trajectory of the much-awaited recovery.
---