Top economists see the recession ending by fall
Unemployment, though, will continue to rise through the end of the year, they say.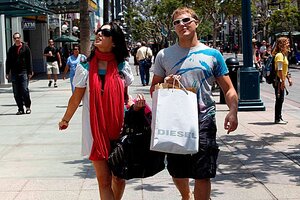 Nick Ut/AP
A prominent panel of 50 professional forecasters says the US economy is finally stabilizing and the recession should end by this fall. But for the second year in a row, they add, the economy will shrink with a cumulative decline that will give the nation the worst downturn since the last years of the Eisenhower administration.
The drag on the economy is no longer housing or consumer spending. Rather, it's lagging business investment in inventories, construction, and purchases of equipment as profits have collapsed, say the economists who participated in the quarterly survey of the National Association for Business Economics (NABE).
In fact, despite recent signs in the past several weeks that the rate of decline in the economy is slowing, the economists have lowered their forecasts for the next several quarters compared with their last survey in February. But, despite the lower forecast, the panel expects the economy to start to grow this summer.
"The bad news is mostly behind us," says Chris Varvares, president of St. Louis-based Macroeconomic Advisers and the president of NABE. "The good news is that the NABE panel expects economic growth to turn positive in the second half of this year, with the pace of job losses narrowing sharply over the remainder of this year and employment turning up in early 2010."
Joblessness to approach 10 percent
But before the employment rate turns up, the jobless rate, now at 8.9 percent, will get worse, peaking at about 9.8 percent by year-end. That would be the highest rate since the recession of 1981-82, when it hit 10.8 percent. By the NABE estimate, a total of 4.5 million jobs will be lost this year.
Rising unemployment won't be the only risk to the economy. The group is also concerned about further sharp declines in home values and a lack of improvement in credit conditions. These negative forces are major reasons the group expects that consumers will remain cautious – a feature they think has become a part of the culture at least for the next five years.
---