Firms that retool and rebound
A handful of Midwest manufacturers find ways to adapt and save jobs.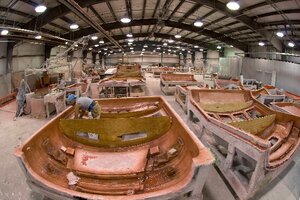 Stephen Carrera/Special to The Christian Science Monitor
LIGONIER, IND.
The future looked bright at Structural Composites Indiana, a small fabricating company building fiberglass tops for motor homes and travel trailers. Set in a small industrial park 20 miles from Elkhart, Ind., the RV industry's Detroit, the company had flourished. Last March, 130 employees were working two shifts, 5-1/2 days a week.
Then the bottom fell out.
When the market for recreational vehicles collapsed last year, so did scores of companies across northern Indiana. Structural Composites kept its workers as long as it could. Many were friends, relatives, and neighbors. "It really became a heartache to tell people, 'We can't support you for now,'" recalls CEO Jim Fearnow, one of the founders. But by December, the workforce had shrunk to just 20.
The company didn't close. Nor did it simply hunker down, as many have done, to wait for better times. Even before surging gasoline prices soured Americans on motor homes, Mr. Fearnow and his business partner had been looking for new uses for their fiberglass.
The recession gave that quest a new and powerful urgency. At a trade show in Chicago, representatives of the coal industry had confided a wish to put lids on coal cars. Covers could keep swirling coal dust from escaping during coal's long journey from the western coal fields. They might also save money by streamlining the cars, reducing drag and lowering fuel costs.
---