The summer of staying close to home
For cash-strapped vacationers, time off this years means exploring ... locally. A report from Europe, Japan, and the US on the return of the road trip, backpacking with a burro, and growing beets.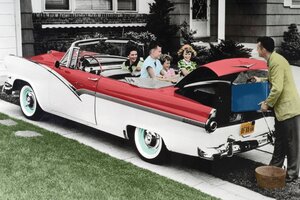 Getty Images
ATLANTA
A few years ago, the specter of space tourism captivated the world. That seems now, to say the least, a different planet.
This summer, leisure will be redefined across the globe from dreams of exploring the cosmos to the prospect of muddy knees from an afternoon in the garden.
Adventures like a walk through the Alps, a Spanish pilgrimage, or an evening at the softball park will replace cruises and Caribbean vacations for people riding out the recession in places like Tokyo, Frankfurt, Paris, London, and Atlanta.
Sure, Qatar is betting that tourists will buck the downturn and still flock to its bejeweled hotels. But in many parts of the world, this summer marks a season of lowered vacation expectations and forced time off (also called unemployment). Yet it is also bringing the hope of the curative balm of doing a lot of nothing, and even the return, especially for work-obsessed Americans, to the kind of leisure that Thoreau said can improve the "soul's estate."
Indeed, the slowdown in cubicles is forcing many people to reevaluate their hyperdrive lifestyles, a development that may even challenge government policies around the work-life dynamic, inspiring the first mandatory vacation bill to hit the US Congress since 1936. Moreover, scaled-back vacations could help curb, in the US and abroad, a longtime trend away from the great outdoors – and potentially force a new search for meaning in a downsized life.
---