GM bankruptcy: How will it impact the US?
The automaker got key concessions from bondholders this weekend to help smooth bankruptcy proceedings, which are expected to begin Monday.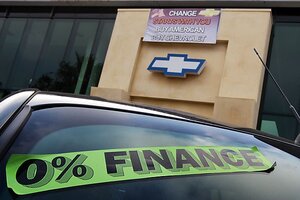 Reed Saxon/AP
General Motors put its house in order this weekend in preparation for its expected declaration of bankruptcy Monday.
On Saturday, a majority of the bondholders agreed to trade in their share of GM debt for stock in the firm as part of a restructuring plan backed by the US government.
Support from these bondholders is vital, since both GM and the White House want to reconfigure the company quickly and not get mired in litigation among various creditors.
Even so, with the largest maker of cars in the US probably heading into bankruptcy court Monday, the effects will ripple across the nation – and in unexpected ways.
Yes, one result could be once-in-a-lifetime bargains on some brand new General Motors cars. But this is no ordinary bankruptcy, and it's certainly not a GM-wide liquidation sale, analysts say.
What's happening, rather, is a carefully orchestrated restructuring with a big financial assist from the US Treasury.
It will be a mammoth project, and it's all supposed to happen between now and when Americans put away their beach gear on Labor Day.
Here's a question-by-question look at what the GM bankruptcy could mean for ordinary Americans:
Should I go bargain hunting at a Chevy or Saturn dealership?
When Chrysler recently entered bankruptcy, the biggest bargains came at dealerships that were told to close – and were given just a few weeks to shut their doors. Those showrooms had a big incentive to slash prices in order to unload their inventory.
---