As interest rates rise, housing market groans
Higher rates led to a 16 percent drop in mortgage refinancing last week.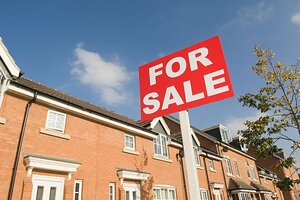 NEWSCOM
A jump in interest rates means the road to recovery in the housing market suddenly looks steeper.
As of Thursday, the nationwide average rate on a 30-year fixed-rate mortgage is 5.3 percent, up from 4.9 percent a week ago and 4.8 percent two weeks ago.
Rising loan costs appear to be having an immediate impact on housing activity. Borrower applications to refinance or take out a new mortgage fell 16 percent last week, the
Mortgage Bankers Association said Wednesday.
The shift comes at a sensitive moment, when the housing slump has shown tentative signs of bottoming out. The good news is that, despite the recent rise, interest rates on mortgages remain historically low. Moreover, a key reason for the rise in rates is positive.
More investors are expecting the economy to stabilize later this year, pushing interest rates up from fear-driven lows.
If interest rates stay on their upward march, however, it creates tougher terrain for the housing market. Fewer families can reap big savings by refinancing an existing mortgage. And for people looking to buy a home, the rate hike effectively makes homes less affordable.
That means home prices may have to fall further to bring housing demand up to match the glut of homes for sale.
"The big worry is still the record foreclosures that are occurring and the high level of job losses that are still occurring," says Dan McCue, a research analyst at Harvard University's Joint Center for Housing Studies in Cambridge, Mass. "Those are two big headwinds for housing.... When interest rates rise, that's another headwind."
---