ECONOMIC SCENE: Can the US manage China's economic comeback?
The giant's revival will help cushion the blow of falling global output. But the Obama administration will need to take care in its dealings.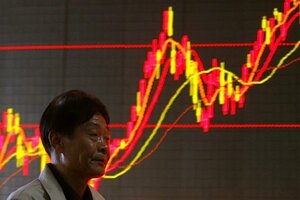 Reuters
China's back.
After a pause at the end of 2008, China's economy rebounded in the first quarter of this year to an annual real growth rate of 6.1 percent in its output of goods and services. That's about half China's astonishing annual growth rate in gross domestic product (GDP) a few years back.
Nonetheless, it's welcome news for the rest of the world.
While global output is expected to fall 1.3 percent overall this year, according to the International Monetary Fund (IMF), China's economic revival will help cushion the blow. Its industries will boost their purchases of expensive machinery and other capital goods from the United States and Europe – and buy more oil and raw materials from other nations.
Though the average income of an individual Chinese is only about $3,000, China, with its 1.3 billion people, has the world's third-largest economy after the US and Japan. China has about 10 percent of world GDP, compared with 25 percent for the US. So China's recovery will have less impact globally than one in the US.
Nevertheless, China represents "the gold standard" in terms of responding to today's "Great Recession," says Nicholas Lardy, an economist with the Peterson Institute for International Economics in Washington. China's stimulus package, announced last year, was bigger relative to the size of its economy than that of any other country, including the US.
---