Jobless rate hits 9.4 percent, a 25-year high
A silver lining is the US economy shed fewer jobs in May than forecasters had predicted.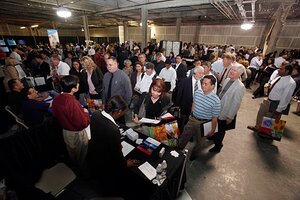 Nick Ut/AP
Momentum in the jobs market is finally starting to swing in a better direction.
For the past four months, the pace of job loss has slowed. Now, in another sign of better news for the US economy, the loss of jobs slowed in May to 345,000, lower than expected and half the average decline of each of the past six months, the government reported Friday.
But in a sign of how slowly companies are adding to payrolls, the unemployment rate rose from 8.9 percent in April to 9.4 percent last month, the highest rate in more than 25 years.
Despite the rising unemployment rate, economists viewed the report with cautious optimism. It shows the worst of the job losses are over, they say. The next step will be a bottoming out of job loss by fall. But, they warn, the US economy is not even close to becoming a dynamic creator of jobs.
"This recovery is still very gradual," says Scott Brown, chief economist at Raymond James & Associates in St. Petersburg, Fla.
Jobless rate expected to keep climbing
In fact, economists anticipate the unemployment rate is likely to continue to rise in part because, as job losses diminish, more people are encouraged to hit the streets looking for work.
"The irony is the better things are actually getting, the more people try to participate in the economy," says economist Bob Brusca of Fact & Opinion Economics in New York. "And as they come in even faster than the economy is improving, it drives up the unemployment rate."
---