Rise of the Recessionistas
Fashion meets frugality as self-confidence, pragmatism drive labels to broad market.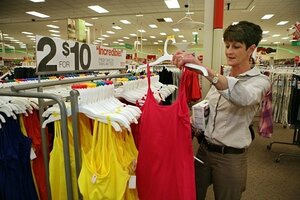 Melanie Stetson Freeman
"Recessionista"? "Frugalista"? Call them what you may, today's fashionistas are on the road to their own recovery.
Whether it's the wealthy New York matron who eschews a shopping spree in favor of a single, high-quality item or the struggling Los Angeles actress who selects a single pair of shoes at a discount megastore, today's fashion-conscious are finding a new kind of freedom. The languishing economy may have forced an unwanted downsizing on both budgets and desires, but out of that has blossomed something else – a newfound self-confidence in personal fashion decisions, choices no longer dominated by snobbery or designer "cool." Among the emerging signs: the first lady bedecked in off-the-rack, J. Crew casual wear and the growing number of top designers – think Norma Kamali and Vera Wang – retooling for the discount crowd at Wal-Mart and Kohl's.
"Women today are feeling empowered," says couture designer Joanna Mastroianni. "Some of my top clients who could afford anything are looking for value now, quality over quantity."
It's a cultural sea change, says futurist Marian Salzman. "History will record this as a shift from mindless consumerism to a new frugality…. Money is being vaporized, many lives are changed forever. It's not just the latest trend. It's much deeper than that."
Expensive shoes used to break the bank for Los Angeles actress Lara Ingraham, who says she rarely has money to spare. "I put it all into my career," she says, whether it's classes or clothing.
---