ECONOMIC SCENE: Why does healthcare reform founder?
Cutting costs would mean trimming pay for too many professionals.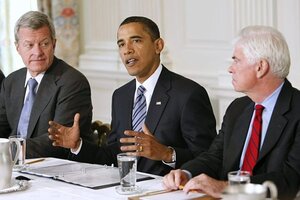 Reuters/Kevin Lamarque
President Obama has taken on a perilous project in attempting healthcare reform.
The reason: Substantially reducing healthcare costs means cutting the incomes and profits of physicians, nurses, health insurance firms, hospitals, and others.
"Everybody has to take a haircut," says Jean Mitchell, a health economist at Georgetown University.
That's why she and some other top American healthcare economists doubt Mr. Obama will really reform the system this year.
Proposals to cut healthcare costs boil down to "talking about people's salaries," says Henry Aaron of the Washington-based Brookings Institution, who recently bet Washington Post columnist E.J. Dionne that no large-scale healthcare reform would pass this year.
The industry already is the biggest in the nation. It employs more than 14 million people, many well paid. Its lobbyists have serious clout.
---